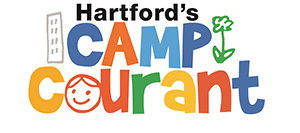 Who We Are:
Celebrating 120 years in 2014, Hartford's Camp Courant is currently the oldest and largest FREE summer day program in the nation. We serve around 1,000 Hartford children between the ages of 5-12 for six weeks each summer. Hartford's Camp Courant is the only summer camp serving Hartford youth that provides transportation, preventive and acute health services, two nutritious meals a day, and recreational, educational and dynamic activities all at no cost to the camper or his or her family.
What We Do:
Along with traditional camp programming such as arts & crafts, swimming, and sports, campers are exposed to a variety of programs and activities where they learn the benefits of living an active and healthy lifestyle.
Nutritional and Healthy Eating- by learning why some foods are healthy and others are unhealthy, smart grocery shopping on a budget including a field trip to a local super market, and how to prepare meals;
Being Active- Making daily fitness activities part of your lifestyle, participating in physical fitness challenges such as 'zumba', yoga, hip-hop dancing and obstacle courses, as well as learning that an activity like gardening, which is offered onsite at the greenhouse, can be a healthy activity as well as produce a healthy result;
Making Smart Choices- How to make difficult situations under pressure, such as from peers or confronting bullies, coping with anger and stress, and lesson about drugs and alcohol.

We also provide two nutritious meals a day and a variety of healthcare services including free dental exams and vision testing. Hartford's Camp Courant provides our City's children with a safe and structured environment to play, learn, and grow into healthy and responsible adults.
Our Story:
Hartford's Camp Courant was founded in 1894 by a group of Hartford Courant employees who wanted to help Hartford's children escape the hustle and bustle of summertime in the city. At the time, fresh air was believed to prevent diseases like polio or tuberculosis, which ran rampant in Hartford's over-crowded neighborhoods. That first season was considered a success because not one child who attended Camp Courant that summer contracted one of these diseases.

Today, Hartford's Camp Courant combats a different widespread health issue: obesity. At present, Hartford has the second highest poverty rate among the top 75 U.S. metro cities, and 92% of the children we serve qualify for the Federal Free & Reduced Lunch Program. According to the Center for Public Health & Health Policy at the University of Connecticut, 37% of Hartford's preschoolers are either overweight or obese. This statistic can be attributed to the lack of proper dietary and physical activity resources available in low-income neighborhoods. Our mission is not too different from the one set by the Hartford Courant employees who founded the organization 120 years ago—to provide Hartford's children with a safe, fresh-air environment where they can be active and learn the benefits of living a healthy life.
NEXT >