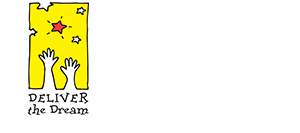 Who We Are:
Deliver the Dream is a 501 (c)(3) organization that helps families experiencing a serious illness or crisis in their lives by organizing monthly three-day, two night retreats. Each family that attends has a family member - whether it's a child or parent – living with an illness or crisis such as cancer, autism, a blood disorder, Down syndrome, spina bifida or multiple sclerosis.

Deliver the Dream need your vote so that you can help us to continue our family retreat program. The prize money will go directly towards our retreats that help families in need. Deliver the Dream covers all the cost of the entire retreat for families, including meals, activities and lodging.
What We Do:
When one person in a family is sick, the entire family is impacted. The family's number one focus is fighting the illness. As a result, parents are pulled in many directions. Siblings are often ignored and feel a sense of loss and the family member who is sick feels like they are the only one with that illness.

Though there are hundreds of special needs camps in the United States, there are very few organizations nationwide that focus on the whole family unit like Deliver the Dream.

Deliver the Dream's family retreat program helps families to enhance coping skills, improve communication, reduce stress, and cultivate relationships with other families who are going through similar circumstances by combining traditional recreational activities, such as fishing and canoeing, with therapeutic workshops, peer-to-peer discussion groups and expressive arts and music activities.
Our Story:
Deliver the Dream was founded in 2002 when it held its first retreat for families who have a parent with cancer. Since then, Deliver the Dream has brought hope and healing to more than 6,500 family members across the Southeast United States.

Each retreat is offered at one of the selected venues, which are miles away from the hustle and bustle of the crowded city. Each venue is unique but all are located in rustic surroundings where natural beauty creates an atmosphere perfect for a fun-filled and relaxing retreat.

Families are normally referred by a network of not-for-profit and healthcare organizations. Families can also be self-referred. Deliver the Dream's healthcare partners include some of the area's leading hospitals and organizations such as the American Cancer Society, Joe DiMaggio Children's Hospital, Miami Children's Hospital, All Children's Hospital, Wolfson's Children's Hospital, Arnold Palmer Children's Hospital, Chris Evert Children's Hospital and the National Multiple Sclerosis Society.
NEXT >