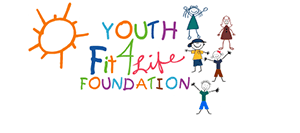 Who We Are:
Fit4Life Youth Foundation is a 501(c)(3) non-profit corporation founded in the fall of 2009 with the immediate goal of combating America's fastest growing health epidemic – childhood obesity. Statistics illustrate the breadth of this epidemic, its negative health consequences and its cost to Americans. Fit4Life is proud to join this battle and become a leader in the fight by offering programs to get our youth moving towards healthier lifestyles.
What We Do:
One of the most critical factors in combating the epidemic of obese and overweight children is meeting the challenge of getting our kids to exercise more. Part of this process requires Fit4Life to offer fun and inspiring, yet challenging exercise programs that will engage and encourage our children toward a lifetime of fitness. Beyond physical fitness, health and wellness programs, Fit4Life seeks to educate its participants on the importance of education, character and leadership development through its mentorship programs which use sport, culture and positive life experiences as the relational platforms.
Our Story:
Founded in the fall of 2009 by Chairman Oscar McBride, Fit4Life began its first program Relentless™. Relentless™ quickly became known as one of the most "intense" workouts in Southern California, targeting student-athletes specifically and helping develop explosiveness, core strength and mental focus. Since then Fit4Life has continued to create programs that not only benefit young people athletically, but challenge them psychologically and morally including Y.E.S. (Youth Empowerment Standards), Y.E.A.R.S. (Youth Educational Advancement Redefined by Sport) and its most recent program PEAK Performance; which aligns personal mentoring with technology to create the most complete fitness and nutrition program for student-athletes, those who struggle with obesity or anyone who has significant health, fitness and wellness goals. To date, Fit4Life has mentored more than 5,000 student-athletes both nationally and internationally.
NEXT >