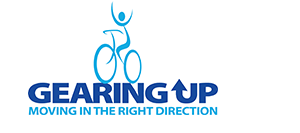 Who We Are:
A Philadelphia-based nonprofit organization providing women with histories of abuse, addiction and incarceration with the opportunity to ride a bicycle as a vehicle for physical, emotional and social health.
What We Do:
Gearing Up provides women in transition from abuse, addiction, and/or incarceration with the skills, equipment, and guidance to safely ride a bicycle for exercise, transportation, and personal growth. The term "women in transition" refers to women who have been formerly incarcerated, have histories of abuse and trauma as kids and/or as adults, have used drugs and/or alcohol as a way to cope with painful experiences and are learning how to live a crime-free sober life with purpose and meaning. While in transition, bicycling offers a mode of transportation, opportunities for social connectedness and employment, as well as countless psychological and physical health benefits. A primary goal of Gearing Up is to provide women with regular coaching, mentoring, and support to make healthy lifestyle changes, promote personal growth, and use biking for transportation.
Our Story:
While working on her Master's degree, Kristin Gavin started a fitness program for residents at Interim House, a residential and outpatient drug and alcohol recovery facility for women in the Mt. Airy neighborhood of Philadelphia. Kristin was interested in using body movement as an effective complement to treatment for anxiety and depression among women. In May 2009, she decided to take the plunge. Fuji donated five bikes to the cause, and Gearing Up has been 'moving in the right direction' ever since. Gearing Up moved from 29 ride participants in 2009, to 325 participants in 2013. In fact, from 2012 to 2013, Gearing Up saw a 218% increase in women who earned their own bicycle.
NEXT >