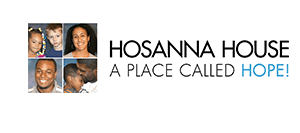 Who We Are:
Hosanna House, Inc. are people working together providing opportunities that will empower families and individuals to discover, acknowledge and develop their maximum potential physically, spiritually and economically. Hosanna House's mission is to help people who are facing difficult life issues which are beyond their ability to resolve on their own.
What We Do:
Hosanna House, Inc. provides quality health and human services to as many as 1,000 community residents daily:
Early childhood education – NAEYC accredited child development center achieving a Keystone STARS 4-star rating, which serves 70-80 preschool children and 45-50 school aged children up to thirteen years of age in after school programming.
Permanent supportive housing and case management – to 30 homeless single parent, female head-of-households with a disability (drug, alcohol, mental & physical).
Youth services – after school programs: mentoring, creative learning modules, swimming classes and a nine-week summer camp for 350 children and youth.
Health and wellness – facilities and supportive health advisors, workshops and classes that focus on obesity, nutrition and high-risk diseases to community residents at no cost.
Our Story:
The organization is a charitable non-profit community center founded in Wilkinsburg, Pennsylvania in 1990 by Covenant Church of Pittsburgh. Our initial objective was to rescue an abandoned school building and to restore it as a one-stop shop, resource for community residents. Health and human services we provide are in response to the needs of the Wilkinsburg residents and neighboring communities. Today, after 24 years of service, the organization continues to provide programs and services to over 40,000 people annually. Hosanna House is, "A place called hope!"
NEXT >