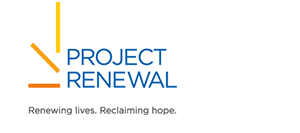 Who We Are:
Renewing lives. Reclaiming hope.

"I got lost for 33 years … and I'm just glad I got the opportunity to save my life here... I feel something like the comeback kid right now." Project Renewal client

Project Renewal's mission is to end the cycle of homelessness by empowering men, women and children to renew their lives with health, homes and jobs.
What We Do:
HEALTH: Project Renewal delivers professional healthcare to homeless men and women where they live, on the streets and in shelters. We offer primary care and psychiatry, as well as dental, optometry, detox and addiction recovery services. In addition, our ScanVan provides mammograms to more than 5,000 uninsured homeless and low-income women every year.

HOMES: Our housing program includes a variety of living options based on the needs of individual clients. We have emergency shelters as well as transitional homes and permanent community-based apartments. Every night, 1700 New Yorkers sleep under a Project Renewal roof.

JOBS: Our workforce development program provides integrated education, vocational training, and job placement services to people facing significant barriers to employment, such as mental and physical disabilities, low educational attainment and a lack of marketable job skills. Every year, we get jobs for more than 350 of our clients.
Our Story:
Project Renewal began in 1967 as a 48-bed voluntary alcohol detoxification program at a time when arrest and incarceration were society's most common responses to "public inebriation". Since then, our goal has remained the same: to respond to New York City's homelessness crisis with creative, comprehensive, sympathetic and effective answers.

Project Renewal is the lifeline to more than 15,000 people every year. We meet the most vulnerable New Yorkers where they are and provide them with the tools they need to change their lives and the lives of their family members.

"The (Project Renewal) staff…were always there for me… Now I work at Fairway but I want to go to school to become a therapist. I have six kids, two live with me. I even rescued my daughter out of the shelter system." Project Renewal client
NEXT >