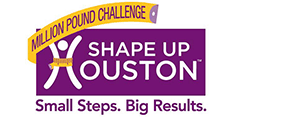 Who We Are:
Shape Up Houston is a non-profit organization dedicated to reducing obesity throughout the Greater Houston area. Two-thirds of Americans, and the citizens of Houston, are overweight or obese. Obesity is a gateway to heart disease, diabetes, stroke, and cancer – debilitating, costly diseases that stunt our economy, undermine our quality of life and negatively impact our families. We are creating a movement to educate people about the dangers of obesity, and motivate individuals to improve their health and the health of our community.
What We Do:
Shape Up Houston's helpful website and handy phone app have all the tools to help users track and improve their health. We offer online journals to track weight, diet, exercise, stress, sleep, and biometric measures (cholesterol, glucose, blood pressure), and educational information on many aspects of overall health. As a small organization with limited resources, we believe one of the best ways to reach a large number of people is through employers and community organizations, so we've built a portal that offers them additional tools. Employer coordinators can use this portal to easily create teams, deliver programs and fun challenges complete with all materials and guidance to effectively engage their workforce, and aggregate reporting on participation and results. Our mission is to motivate people to take small steps to get big results in improving their health.
Our Story:
Shape Up Houston was founded in 2011 by retired business executive, Lan Bentsen, who was greatly concerned about the health of the community and the serious personal and economic consequences of obesity. Lan persuaded Houston's Mayor, Annise Parker, to publically launch the Million Pound Challenge this year, which challenges Houstonians to collectively lose 1,000,000 pounds. The Million Pound Challenge is a vehicle to raise the public's consciousness about obesity as a critical, urgent, and fast growing public health issue. We have lost nearly 50,000 pounds so far this year and have recruited the active participation of 30 employers of all sizes to date, who are promoting the program to their workforce and dependents. Our goal for 2015 is to engage more employers, all the local school districts (we currently have two committed and strong interest by others) to reach our children, and the underserved community through our relationship with the Houston Food Bank, the largest in the country.
NEXT >