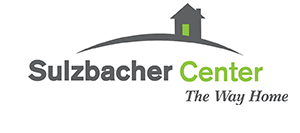 Who We Are:
The Sulzbacher Center is Northeast Florida's largest provider of comprehensive services for homeless men, women and children. We are one of only a few centers in the nation to offer a full range of services for the homeless 24 hours a day, 7 days a week, 365 days a year.
What We Do:
Close to 2,500 of our neighbors— men, women and children—are homeless every night in Jacksonville. Each one has an immediate need for food and shelter. But just as important, each one deserves the opportunity to achieve a better life with a home of their own, an income to live on and access to health care. Sulzbacher Center provides programs that transform lives. In the process, we create a better city for all of us.

The Sulzbacher Clinics help to achieve this goal by providing healthcare services that are often difficult to access by the homeless, uninsured, and those living below the poverty level in our community. In just one day at our Federally Qualified Healthcare Centers we provide medical, dental and behavioral healthcare to over 100 patients.
Our Story:
When the I.M. Sulzbacher Center for the Homeless opened its doors in 1995 the Center only served men and only had the capacity to provide breakfast to our residents. As the face of homelessness in Northeast Florida has evolved so has our Center. Now the Sulzbacher Center is home to over 340 men, women and families. The Center was founded on the premise that homeless individuals need and deserve more than just a meal and a bed to facilitate their recovery and reintegration into the community. The Center provides a continuum of care approach to addressing all aspects of homelessness.
NEXT >