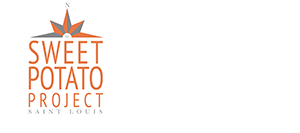 Who We Are:
The Sweet Potato Project is offered by the North Area Community Development Corporation (a 501 C-3) St. Louis, MO-based agency. NACDC's mission of North Area Community Development Corporation is to facilitate community development and create a healthy, sustainable community through agricultural based economics in impoverished urban neighborhoods.
What We Do:
The Sweet Potato Project shows at-risk youth how they can take basic business principles (supply & demand, market saturation, competition and aggressive marketing) and apply them to legitimate enterprises. Our youth plant sweet potatoes, harvest them, create recipes; develop products (cookies, pies, etc) while learning food processing, packaging, branding, management, face-to-face sales, Internet distribution and marketing skills. They are paid bi-weekly during the summer and receive weekend pay during the fall, winter and spring. Students continue generating money through sales commissions on their products.

Our ambitious goal is to foster a generation of youth who have taken ownership of troubled neighborhoods along with community stakeholders. Our students have become "urban pioneers" who dramatically show that produce can be grown and food-based products can be created, packaged and distributed from troubled neighborhoods.
Our Story:
The organization was founded in 2012 by former St. Louis Post-Dispatch journalist, Sylvester Brown, Jr. and the North Area Community Development Corporation. We are inspired by the idea that we can help youth who are so easily dismissed, disregarded, locked up or locked discover their inherent skills and become empowered "change agents" in disadvantaged communities.
NEXT >